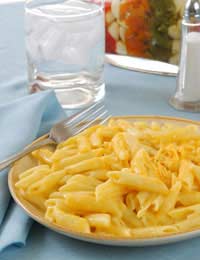 On those days when you haven't had time to buy groceries, and you have a starving family to feed, fall back on a cheap meal with ingredients that come out of the freezer.
How to make and freeze white sauce
Next time you have too much milk to drink in time, make a pan of béchamel and freeze it in portions. High in calcium, Béchamel is a good base for a cheap meal, like macaroni cheese or chicken pasta bake – recipes below.
Béchamel Sauce
Serves four:
50g unsalted butter
25g plain flour
568ml milk
Salt and pepper
Optional: 175g cheddar cheese, grated
In a large, heavy-bottomed saucepan, melt the butter. Stir in the flour with a wooden spoon, and cook it gently for a minute. Take the pan off the heat and stir in a splash of milk, stirring until you have a smooth paste. Keep adding the milk, a splash at a time, until the paste is fairly sloppy; then pour in the remaining milk and return the pan to the heat. Keep stirring, getting the spoon right into the corners of the pan to make sure the sauce doesn't stick. Heat gently until it's at a very gentle simmer, then cook for 3- 5 minutes more, stirring frequently. Season the sauce generously.
To freeze, cool the sauce (a piece of cling-film resting on the top of the sauce will prevent it from forming a skin). Pour it into a labelled freezer bag and put flat into the freezer. You should use it within one month. When you wish to use the sauce, just defrost it in the fridge overnight.
Macaroni Cheese
Macaroni Cheese is a really cheap meal that the family will love. Boil 175g of macaroni (using the packet instructions). Warm the sauce gently in the pasta pan and stir in 175g cheddar. Tip the sauce and macaroni into an oven dish, and top with 1tbsp breadcrumbs and 1tbsp grated parmesan (optional). Bake at 190ºC for 30-40 minutes, or until golden and bubbling right through.
Chicken Pasta Bake
Another family favourite using freezer ingredients. You'll need cooled (or defrosted) leftover chicken (at least 3 handfuls, but use all you've got). Shred the meat and put to one side. Using a large pan, boil 450g of pasta (such as penne) according to instructions, and drain in a colander. Put the pan back on the heat, melt 2tbsp butter and add 400g mushrooms (sliced). Saute gently until they are softened. Pour in a splash of white wine (optional), raise the heat, and cook until the liquid has evaporated. You will need 700ml of sauce, so pour the béchamel into a jug and make up the volume using chicken stock (a cube is fine). In an oven dish, combine the pasta, chicken, mushrooms, sauce, salt and pepper, and 4tbsp grated parmesan. Sprinkle with more grated parmesan and bake at 180ºC for 30-40 minutes, or until golden and bubbling right through.
Ham & Pea Soup
Soup is almost always a cheap meal, particularly if you make it using home-made stock and lentils for nutrition. This is a hearty family soup with lots of ham flavour! It's easy to adapt using whatever vegetables you have in the house. Taste as you go along – it probably won't need any salt as the stock might be salty.
From the freezer: Ham Stock (see below)
1 tbsp unsalted butter
2 onions, finely diced
2 leeks, washed and shredded
2 carrots, peeled and diced
200g yellow split peas
Handful frozen peas
Optional: leftover ham, diced
Optional: milk
To make ham stock, boil a 750g gammon piece with 2 onions (halved), 2 carrots (peeled and roughly chopped) and 2 apples (cored and halved). When the ham is cooked, remove it and cool. Reduce the stock to about 1 pint. Taste to make sure it isn't too salty before you use it. Then cool the stock and freeze in a labelled bag. Defrost it overnight before using.
To make soup, melt the butter and soften the vegetables and bay leaf in a large pan. Do this over a low heat, partially covered, and allow plenty of time – at least 15 minutes – for the vegetables to soften sweetly. Next, stir in the split peas and stir to coat them in buttery juices. After a minute, raise the heat and pour in the ham stock. Bring to a rapid simmer and boil for 10 minutes. Then turn down the heat, skim off any froth on the surface of the soup, and simmer gently for 45 minutes- 1 hour, adding the frozen peas right at the end. Check the split peas are soft. Now you can either liquidise the soup or eat it as it is, with or without a little milk or ham stirred in.