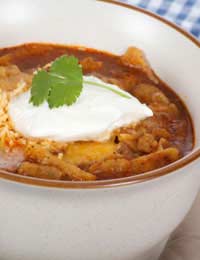 Do you ever get caught out without lunch and settle for a cheese toastie yet again? Or struggle to find something for the kids' supper? By using your freezer more efficiently, and cooking in bulk, you can be prepared for lots of inventive meals. Here are our great ideas for cooking in bulk and saving money…
Use the freezer effectively
Take a look inside your freezer. Is it stocked efficiently for the way that you live? For example, if you have very little time in the week, is your freezer filled with reheatable meals? Or if you work at home, do you have the supplies for a quick lunch? Perhaps you use the freezer for basics such as spare milk and toast bread. Perhaps you buy meat in bulk from a local farm. Or perhaps you need to keep a lot of child-friendly foods in stock. Think about the way your freezer will work best for you.
If you're cooking for the kids…
Boxes of fish-fingers and packets of frozen peas are the obvious solution. But you can keep more inventive meal supplies in your freezer. Here are some ideas:
Cooking tomato sauce in bulk
Simply simmer chopped, fresh tomatoes with a pinch of sugar and seasoning. Simmer slowly until the sauce is rich and thick. If liked, puree and sieve the sauce. Now put it into portion-sized bags and label. This sauce is great mixed with pasta and topped with cheese. It's also perfect for making pizza. No need for pizza bases: use halved crumpets or leftover baguette, spread with tomato sauce and grated cheese, and heated in the oven for 15 minutes.
Make your own chicken dippers
Slice up chicken breast (we prefer free-range, organic) into finger-sized pieces. Put a beaten egg in one bowl, flour in another, and breadcrumbs into one more bowl. Dip each chicken finger into the flour, egg, then breadcrumbs. Put onto a baking sheet, so the fingers aren't touching, then freeze. After an hour you can put them into a plastic bag and return to the freezer (labelled). These taste great served with little pots of mayonnaise and ketchup – a great afternoon snack!
Fruit coulis
It's a great way to get more fruit into the kids, and it will save money if you do this when the fruit is in season. Simply puree your chosen fruit (mango, strawberries, blueberries, peach) – cooking beforehand if necessary (apple, pear), push through a sieve, add a squirt of lemon juice, and freeze in small portions. Defrost then dribble over ice-cream or vanilla yoghurt.
If you're cooking lunch and supper…
If you are at home during the day and want a lunch that is more imaginative than a cheese sandwich, or you cook for two at supper time and want some quick dinners in the freezer – try these ideas.
Five-bean chilli
This is a really cheap alternative to meat chilli, and it's great served over a jacket potato. Soften two onions with one red pepper and two cloves of garlic, chopped, in oil. In a jug, mix 2tbsp medium chilli powder with 2tbsp malt vinegar, 2 tsp sugar and 4tbsp tomato puree. Stir this into the softened vegetables and add 3 tins of mixed bean salad. Pour over stock to cover, and simmer for 20 minutes. Check for seasoning then cool and freeze in portions.
Quesadilla mix
This vegetarian recipe will save money and time next time you need a quick lunch! In a big bowl mix 2 cups sweetcorn, 1 tin black beans, 3 chopped tomatoes, 1 cup chopped red onion, 2 cups grated cheese and a handful of chopped coriander. (You can alter the amounts and ingredients to suit your taste – try adding some spicy chilli powder or sour cream if liked.) Tip into a freezer bag, label, and freeze, along with a packet of tortilla wraps. To assemble, thaw everything for a couple of hours. Preheat a large frying pan and lay a tortilla into it. Cover with the filling mixture, then top with another tortilla. Fry gently until browned on one side, then carefully flip. It's ready when the tortilla is golden and slightly crispy. Cut into wedges and cool slightly before serving!
Skewered chicken
A great filling for pitta or sandwiches – mix 200g plain yoghurt with 3tbsp tikka paste (we like Patak's). Add a squirt of lemon and (optional) some chopped mint and coriander, if you have any. Dice 6 chicken breasts and dunk them in the yoghurt mixture, ensuring the pieces are well covered. Put the pieces onto wooden kebab sticks. Line a baking sheet with greaseproof paper and put the kebabs onto it. Put into the freezer, untouched by anything else, and open-freeze for a couple of hours. Remove, put the kebabs into bags, label, and return to the freezer. To cook, defrost before putting the kebabs onto a hot griddle or barbeque. Serve with minted yoghurt and lots of green salad in pitta bread.