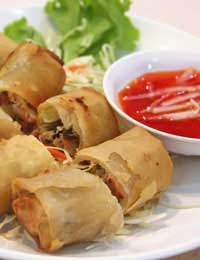 YES… you really can serve up a dinner party menu straight from your freezer! If you love to entertain, but you are short on time, try some of our great ideas.
Time-saving secrets
There are many reasons for wanting to save time on entertaining. Perhaps you have recently moved house, got a new job, or had a baby. You still want to invite people over… but you suddenly find you have a lot less spare time than you used to. Making three courses seems impossible after a hectic day at work. Then there's the loo to clean and the carpet to vacuum… To serve up in style (with plenty of time to shower and put on some perfume), it pays to be prepared.
Instant starters from the freezer:
Frozen vol-au-vents (80s chic) filled with defrosted prawns mixed with sunblush tomato mayonnaise
Defrosted (no need to reheat) Vichyssoise
Crispy spring rolls (easy to make in advance using filo pastry and stir-fried veg)
Bloody Mary Granita (pour into shot glasses and garnish with celery leaves)
Crostini (defrost and top with good shop-bought sundried tomato hummus or guacamole)
Best Ever Tomato Tart
This is a wonderful dinner party recipe that always wins compliments. It's easy to prepare, so you can keep the pastry in the freezer (defrost the night before your party) and whip it up supremely fast.
300g puff pastry, ready-rolled
100g goat's cheese (we like organic)
100g soft cream cheese
Salt and pepper
1 clove garlic, crushed
600g plum tomatoes
Dribble of olive oil
Defrost the pastry the night before your party. Unroll it and cut into four squares. Use a knife to mark a square 1cm in from the edges of each piece. Put onto a lightly oiled baking sheet. Mix together the goat's cheese, cream cheese, garlic, and spread it evenly over the four pieces of pastry (leaving the rims clear).
Slice the plum tomatoes finely, removing the green stem from each tomato, and arrange on the cheese, covering it completely. Sprinkle with salt and pepper, then dribble olive oil over each tart. Bake at 190ºC (180ºC fan oven) for 20-30 minutes or until the pastry is golden and the tomatoes are softened.
Cool for a couple of minutes before serving, with a generous bowl of green salad and a herby dressing.
Ice-cream Pie
Ice-cream pie is as delicious as it sounds. It doesn't seem like the obvious dinner party recipe, but it's fabulous for the summer months. You can make your own soft-set toffee sauce (using golden syrup and brown sugar with a splash of rum or vodka) or simply use the sort that comes in a can. If you don't have time make the pie, you could just warm up the toffee and use it to make ice-cream sundaes at the dinner table, offering an assortment of goodies (chopped hazelnuts, chocolate chips and fresh fruit would be great) to spoon over.
1 tin (397g) Carnation Caramel condensed milk
1 litre (two 500ml cartons) real vanilla ice-cream
Optional extras: chocolate chips, walnuts, chopped banana
375g choc-chip digestives
3 tbsp butter
100g dark chocolate, finely grated on a Microplane
Over a gentle heat, melt the butter in a saucepan. Meanwhile, put the digestives into a large sandwich bag and bash with a rolling pin until they are the texture of fine breadcrumbs. Add them to the melted butter and mix. Press this buttery biscuit base into the bottom of a springform tin (lined with clingfilm) or a flan dish. Put into the freezer to set hard. At the same time, take the ice-cream out of the freezer to soften up.
When the ice-cream is soft and the base is hard, spread half of the ice-cream over the biscuit. (If you are including any extras, mix them by hand into the ice-cream before you start spreading.) Open the tin of caramel and spread this over the ice-cream, then add the second layer of ice-cream. Finally, sprinkle grated chocolate all over the top of the pie. Cover with cling film and put back into the freezer to set. To serve, remove from the freezer for 15 minutes before cutting.