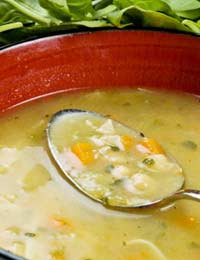 Soups are easy enough for anyone to make. Why not make up a batch and freeze it in manageable portions? Then just defrost whenever you need a quick meal or packed lunch.
Soup is a great way to use up tired veg from the rack, but don't see it just as a leftover concoction – buy seasonal ingredients in bulk and cook them while they're fresh to get the very best results. Soup was practically made for freezing: there's no degradation in quality or texture, so what are you waiting for? We think our soup recipes are destined to be firm family favourites!
Classic Spiced Parsnip Soup
This qualifies as a British classic – invented by Jane Grigson, this lovely parsnip soup recipe is easy to make and freeze.
2 medium parsnips, peeled and chopped roughly
1tbsp butter
1 onion, sliced
1/2 tsp turmeric
1/2 tsp cumin seeds
1/2tbsp coriander seeds
1/4tsp cayenne pepper
400ml vegetable stock
OPTIONAL: single cream
First, toast the cumin and coriander seeds in a dry saucepan – when you can smell their aroma, put them into a grinder (or mortar) and whiz or pound to a powder. Add the turmeric and cayenne to the powder and stir.
Now melt the butter and soften the onion in the saucepan. After five minutes add the parsnip pieces. Put on the lid and cook for 10 minutes, then stir in the spices and 1tbsp plain flour and cook for a further minute. Pour in the stock and bring to a gentle simmer. Cook for another 15-20 minutes or until the parsnips are tender.
Blend until smooth, adding a splash of cream if liked, then cool and freeze in single portions. Garnish the parsnip soup with toasted almonds and freshly chopped coriander.
Something different…
Leek and Potato, Tomato, and Spiced Parsnip soup recipes are commonplace in British culture, so why not introduce some new flavours and try a soup from another land? Morocco, South Africa and Iran all have their own popular soups, from Harira to Peanut & Squash, and Red Lentil with lime – see our recipe below.
Red Lentil Soup with Lime
This smooth, orange-coloured red lentil soup freezes beautifully – and it's full of nutrients, so it makes an excellent packed lunch option. Traditional recipes for this soup use Lumi, sun-dried limes that are floated in the soup bowls; we've substituted fresh lime juice for convenience.
3 large onions, sliced
3tbsp olive oil
3 cloves garlic, sliced
1/2 tsp turmeric
2tsp ground cumin
1 cup red lentils, picked over
5 cups vegetable stock
Juice of 1 lime
Begin by softening the onions in the olive oil; set the heat to low and let the onions soften and brown for 30-40 minutes, or longer, until they are sticky and golden.
Add the garlic and spices and cook gently for another 5 minutes. Stir in the lentils and then pour in the stock. Bring to a gentle simmer and cook the soup for 30 minutes, until the lentils are soft and the flavours are melded.
Season with salt and plenty of black pepper, then transfer to a blender and whiz until smooth. Taste as you stir in the lime juice; you probably will not need it all. Cool in the fridge before freezing the red lentil soup.