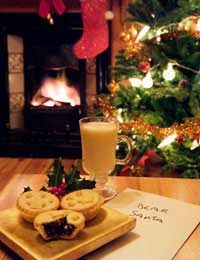 Get ahead with your festive preparations this year. Spending a little time in the kitchen during November and December can mean you're more relaxed and organised in the holidays.
Freezing Groceries for Christmas
There are lots of Christmas food items that can be prepared in advance and stashed in the freezer to be thawed at the right moment. For example, did you know that you can freeze soft cheeses such as Brie and Camembert? You can also freeze milk and butter (one month ahead) to ensure that you won't run out during a manic cooking session.
Consider your family's eating patterns at Christmas and freeze only what you'll need – otherwise you'll quickly run out of freezer space.
Get-Ahead Ideas
Here are some suggestions for things to prepare in advance and freeze.
If you usually have a family supper, for example, after Mass on Christmas Eve, you could prepare a casserole now and freeze it in oven-ready foil dishes (with cardboard lids; available at supermarkets and cooking stores).
For family parties or hungry kids, prepare some sausage rolls (use chilled, not pre-frozen, sausages and puff pastry) and freeze them between layers of greaseproof in a tupperware tub.
if your family gets through lots of bread, it's worthwhile to bake or buy some extra loaves and freeze them now.
Freezing Mince Pies
Mince pies are a great freezer standby. You can bake them from the freezer – just add about 10 minutes to the cooking time. You'll need foil pie cases to freeze these (available in cooking shops).
2oz butter
2oz vegetable shortening
8oz plain flour
Pinch of salt
Zest of ½ orange
1 egg yolk mixed with 2tbsp cold water
Approx 400g mincemeat
First make the shortcrust pastry. The way to ensure a flaky finish is to keep the mixture cool, so that the butter doesn't melt – it's the lumps of fat that melt during cooking to create air pockets and a crumbly texture.
Cut the butter and shortening into dice and add the flour; use your knife, and finally your fingers, to rub in the fat until the mixture looks like coarse sand. Don't overwork the pastry, or the butter will melt and the gluten in the flour will make it tough. Stop as soon as the pastry looks like crumbs.
Beat the egg with the water and stir this into the pastry. Then continue adding water, a splash at a time, until the pastry starts to stick together. Stop while you still have lots of floury crumbs, and continue mixing with your fingertips. Pat the pastry together, wrap in clingfilm, and put into the fridge for half an hour.
Roll out half of the pastry to about 4mm thick, and stamp out fluted rounds to fit your pie cases. Push them in gently, trying not to stretch the pastry. Drop in a teaspoon of mincemeat to each pastry case (it will bubble up and expand slightly during cooking). Finally, roll out the remaining pastry and stamp out lids for the pies. Brush the edges with milk and press onto the cases firmly. Put the pies into the fridge for an hour before putting them on a tray in the freezer. When they're hard, you can put the pies into an airtight bag or tub and freeze until ready to eat.
Bake at 200 °C for about 20-30 minutes, or until golden.