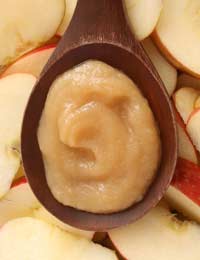 Freezing fruit and vegetables for your baby is very useful in the early stages of weaning. That's because you will be giving your baby very small portions of the same foods to get them used to eating. Here are some ideas for early weaning and a vegetable soup for older babies
Early Weaning Purees
The first stage of weaning involves introducing smooth foods such as yoghurt and vegetable or fruit puree. Later, you will add texture by including miniature pasta shapes, baby rice and porridge
Most fruit and vegetable purees will freeze well, once cooked. Uncooked fruit purees go brown quickly so are best prepared when you are going to use them. Weaning experts recommend introducing your baby to one new taste at a time, allowing time to see whether your baby has any adverse reaction. This means starting very slowly. As baby will be eating such small portions (and sometimes nothing at all), cooking in bulk and freezing fruit and vegetable purees will save you masses of time. Buy some baby food freezing containers (or ice-cube trays) – ones with lids attached will help you to avoid losing all the lids!
Carrot & Apple
Adding sweet apple to vegetable purees sometimes makes them more appealing to babies. Use 4 carrots, peeled, cored, and chopped, and two apples, peeled, cored and chopped. Simmer in very little water over a low heat for about 20 minutes, then cool, drain off the excess water and puree with an immersion blender.
Apple & Pear
This is a real favourite in our house. If you can buy you're your organic apples in bulk (our vegetable box scheme offers big bags). If you are not following an organic diet, you can buy packs of apples and pears from the supermarket. The pear adds a slightly grainy texture to this puree, so use more apple than pear. For about 400ml puree, use 3 pears (peeled, cored and chopped) and 6 apples (peeled, cored and chopped) with a squeeze of lemon juice and a splash of water. Cook gently, covered, for 20-30 minutes, or until the fruit collapses when you press it with a spoon. Cool in the saucepan and then puree with an immersion blender (or put into a blender).
Peach Melba
Yoghurt has to be the number one food for most weaning babies. You can buy great baby yoghurts that do not contain nasties, but making your own – especially in summer, when fruit is reasonably cheap – is a great alternative. Freeze the FRUIT PUREE ONLY. Then defrost a couple every other day and keep a big tub of plain yoghurt in the fridge. For peach melba for 1, peel and whiz 1 ripe peach with 3-4 raspberries, then press through a sieve to remove the seeds. If you're not freezing the fruit, mix it immediately with 100ml of plain yoghurt. FOR BABIES OVER 12 MONTHS, you can add 1/4tsp of honey to the yoghurt.
Vegetable Soups for Next Stage Weaning
Babies can move on to more complex tastes once they are happily eating their first purees. Vegetable soup is a great way to introduce them to lots of ingredients, and as time goes on you can include some texture (by adding peas or potato cubes after pureeing) and help your baby to develop chewing skills. This mixed soup was a big hit in our house. Freeze it in baby trays and defrost in the microwave when required.
1 onion, finely diced
1tbsp unsalted butter
1 large leek, washed and finely diced
2 carrots, peeled and diced
1 bay leaf
Pinch of Herbs de Provence (or similar)
Pinch of vegetable stock powder (Marigold Bouillion is good)
200g red lentils (the sort that don't need soaking)
Handful frozen peas
200ml whole milk
In a large saucepan, melt the butter and put in the onion, leek and carrot. Cover the pan and leave over a low heat to sweat, stirring occasionally, for about 10 minutes. Add the bay leaf and pinch of herbs, the red lentils, and stir. Then add 1 pint of water and simmer for 20 minutes (checking to see if you need to add more water).
When the lentils are soft, add the peas and milk and simmer for 5 minutes further. You can either blend the entire pan of soup, or use a ladle to take out some of the vegetables, then liquidize the rest and return the lumps to the pan. Cool before decanting into baby containers and freezing.