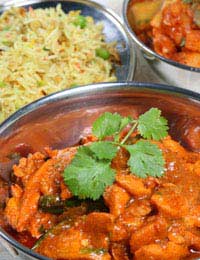 Making meat dishes in bulk and putting a few in the freezer means you're never far from a home-cooked dinner. Single portions of chilli con carne, shepherd's pie and lamb rissoles are perfect for freezing. Here's our guide to freezing meat, with recipes for you to try.
Defrosting and Freezing Rules
Meat poses a health hazard if it's not treated carefully. Uncooked meat is one of the most renowned sources of food poisoning, and it's more dangerous with certain types of meat. Poultry and game, sausages and burgers, and rolled joints are most susceptible. These meats must be cooked through properly, whereas cutlets and beef and lamb steaks are safe to eat when they are pink in the middle. When it comes to freezing and defrosting, the rules are:
1 Freeze raw meat as soon as possible after purchase, and definitely before the USE BY date.
2 Defrost raw meat thoroughly, following pack instructions. It is likely to ooze liquid so put it in a sealed container.
3 Cook the thawed meat within 2 days of defrosting it.
4 To freeze cooked leftovers, cool them quickly (covered on the worktop, then in the fridge) and put into an airtight bag or container in the freezer. The Food Standards Agency says the golden rule is to reheat only once.
Leftover Recipes That You Can Freeze
Lamb and Vegetable Korma
You need:
Leftover lamb or chicken
1 onion
2 cloves garlic, crushed
1″ piece of ginger, peeled and chopped
3tbsp Korma curry paste
2tbsp ground almonds
Vegetables of your choice – chopped mushrooms, peas, carrots, cauliflower florets or pepper pieces are all good.
1 tin coconut milk.
1 lime, juiced.
To make:
Soften the onion, garlic and ginger in a little oil.
Add the curry paste and almonds and cook for a couple more minutes before stirring in the vegetables of your choice and then pour in the coconut milk.
Simmer for 5-10 minutes until the vegetables are tender, then pour into a freezer container and cool.
Stir in the chopped leftover meat, and freeze.
Chicken and Mushroom Pie
You need:
Leftover chicken
1 onion
1tbsp flour
100ml milk
0.5 tin Cream of Mushroom Soup
1 packet fresh puff pastry
Fresh mushrooms, chopped (optional).
To make:
Soften the onion in a little olive oil, and when it's translucent, add the flour and stir for another minute or two.
Add a splash of milk (or white wine if you have a bottle handy) and stir until it makes a paste, then incorporate the rest.
Now stir in the mushrooms and soup and bubble until combined, then set aside to thoroughly cool.
When cold, add the roast leftovers, mix to combine, and freeze in an airtight container or bag.
To prepare:
Thaw the filling overnight.
Roll out the pastry to fit your pie dish (or dishes), and pour the filling into the dish.
Moisten the edge with a little water and press the pastry cover on top.
Press a fork around the edges to seal and make a little hole in the centre of the pie.
Bake until golden brown and hot right through, and cool slightly before serving.