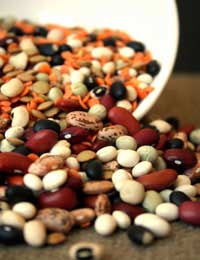 Pulses – a group that includes chickpeas, lentils, kidney beans, split peas and cannellini beans – are easy to freeze in bulk. Cooking dried pulses is far cheaper than buying in tins, and if you cook plenty at once then it's easy to stash some in the freezer. Try one of our delicious pulse recipes or ideas.
Which Pulses Can You Freeze?
You can freeze all types of pulse – from lentils to kidney beans. They should be soaked and thoroughly cooked first. To ensure that toxins are removed, the Food Standards agency advises boiling pulses hard for 10 minutes, then simmering them until tender. Cooked pulses should be cooled before being put into bags and labelled for the freezer.
What Can You Use Pulses For?
Once you have a stash of cooked pulses in the freezer, you can use them in the same way as tinned pulses. Throw some chickpeas into a spicy lamb stew, use kidney beans in chilli, or thaw some cannellini beans and crush with garlicky olive oil to make a protein-rich 'mash' to accompany rib-eye steaks.
Pulses are a valuable form of protein, especially for vegetarians. So don't restrict yourself to freezing plain cooked pulses. Try them in recipes: five-bean chilli is a rich source of vitamins, and tastes great straight from the freezer. Our delicious Aloo Chole (below) is a nutritious main meal, especially served with rice and a green vegetable. And if you have a bag of frozen chickpeas available, you can make homemade hummus in a jiffy: just add garlic, tahini paste, olive oil, and lemon juice.
Recipe: Authentic Aloo Chole
This lovely chickpea curry makes a good accompaniment to meat or vegetable curries – or a substantial main dish. It will sit in the freezer for a few months, and is easy to reheat from frozen – just put the foil container directly into a hot oven for 30 minutes, and serve with rice or naan.
For cooking the pulses:
250g dried chickpeas, soaked overnight in cold water
1 onion, chopped
2 green cardamom pods, split
8 dried cloves
2 bay leaves
15 peppercorns
1tsp cumin seeds
1tsp salt
Pinch of asafoetida
For the sauce:
2 onions, chopped
2″ fresh ginger, peeled and chopped
8 cloves garlic
2tbsp oil
1tsp turmeric
1/2 tsp garam masala
1tsp ground coriander
350g tomatoes, chopped
2 large potatoes, peeled and diced into 1cm pieces
Juice of ¼ lemon
75g fresh coriander, chopped
Soak the chickpeas overnight; in the morning, drain them and put into a large pan. Cover with fresh water. Add the chopped onion, cardamom, cloves, bay leaves, peppercorns, cumin seeds, salt and asafoetida to the water and bring to the boil. Boil hard for 10 minutes; remove any froth from the top of the water, then turn down the heat and cook for another 50 minutes, or until the chickpeas are just tender. Drain them, removing the larger spices and reserving the cooking water.
To make the sauce, puree ONE onion with the garlic and ginger in a food processor. Warm the oil in a large saucepan and add the remaining chopped onion. Cook over a low heat for about 25 minutes, until it is evenly golden-brown. Add the pureed onion and cook for another 10 minutes. Stir in the turmeric, garam masala, coriander, and the tomatoes. Cook for a few minutes, or until the sauce starts to separate slightly.
Tip in the diced potato with the chickpeas and their cooking water. Bring the mixture to simmering point and cook for another 15 minutes, or until the potato pieces are just tender. Add the lemon juice and taste for seasoning. Stir in the fresh coriander and serve immediately. If freezing, cool the curry thoroughly before ladling it into foil containers, labelling, and putting into the freezer.