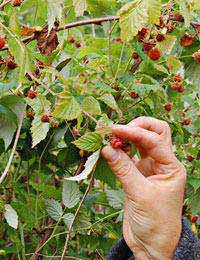 First, the bad news: fruit just won't grow in our British winters. Your gooseberry, blackcurrant and raspberry bushes will all be woody stumps by Christmas; but, if you've planned well, you could have a freezer full of delicious fruit to last the year. This is great for the family budget and can help save money when fruit is at its most expensive. Here are our tips on growing fruit to eat all year round, plus a delicious cranberry recipe for winter.
Long-Term Planning
Growing fruit requires a long-term approach. An apple tree won't be giving you generous crops for years, and even raspberry canes take a couple of years to reach their peak. However, once they're ready, trees and bushes will reward you with basketloads of fruit that can be stored, cooked, frozen or canned to give you a longer supply.
How do you plan your fruit patch? Firstly, consider how much fruit your family eats, and how. Do you tend to snack on apples, or do you enjoy baking cherry pies at weekends? To maximise your fruit-eating season, it's a good idea to combine approaches, so that you have fruit you can freeze, fruit for baking and fruit for lunchboxes.
Next, consider the space available to you. Is there a place you could site an apple or plum tree, without casting too much shade over surrounding crops or plants? If space is tight, you may wish to concentrate on growing high-yield crops like rhubarb, raspberries and gooseberries. Also note that gooseberry bushes, apple, plum and pear trees can be grown on cordons – in other words, trained against a wall to create a flat shape.
What to Expect From Your Fruit
Gooseberry bushes will yield up to 5 – 6lb, but it will take a few years for them to reach that. Raspberries are usually very prolific, giving up to 2lb per cane (and you can plant two per metre). Strawberries – which will peak in their second year after planting – can give 1.5lb per plant, and you can extend the season by choosing three varieties (early, main and late) and by covering the earlies with a polytunnel. Getting the best from your fruit also depends on good planting conditions in the first place: follow instructions from the supplier, incorporating lots of well-rotted manure for strawberries and raspberries, and protect from birds using fine netting in summer.
Tip: Learn to Can Your Fruit
It's a very old technique, but canning your fruit is an excellent way of preserving your summer harvest for a whole year. You can, for instance, cook apples gently in syrup to create apple pie filling, which must then be poured into sterilised jars, sealed, and boiled for a number of hours. You can also preserve peaches and cherries (for example) in light syrup, to produce a result similar to the tinned fruit you see in the supermarket. The USDA (US dept of agriculture) has published a comprehensive Guide to Home Canning, which is available free online.
Tip: Grow Cranberries for Christmas
Cranberries can be grown in your garden, ready for Christmas time – when you can dry them in the oven, freeze them, or make them into cranberry sauce or cookies. Cranberries are also lovely dropped in mulled wine at the simmering stage. Vegetable supplier Marshalls sells Christmas-cropping cranberry bushes for around £6 each. Try this sauce alongside your Christmas dinner (with thanks to Marshalls):
1 orange
175g (6oz) caster sugar
5 tbsp port
359g (12oz) home grown cranberries
1 eating apple, finely chopped
To make:
Finely grate the zest from the orange and squeeze the juice. Dissolve the sugar in a medium pan with 4 tbsp port and the orange juice.
Stir in the cranberries, apple and orange rind. Cook uncovered for 8 – 10 minutes (slightly longer if the cranberries are frozen) until the fruit is soft and the juices are slightly thickened.
Stir in the remaining 1 tbsp port. Serve warm or cold.