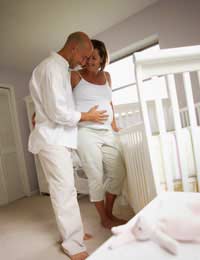 If you're expecting a baby, preparations are probably already underway in your house. You might be decorating the nursery, decluttering, and ordering new equipment for every room… so here's our quick guide to organising your kitchen in readiness for those tiring first weeks.
Best Use of Space
The best approach is to make good use of storage capacity in your cupboards AND freezer. You probably couldn't fit a fortnight's worth of meals into your freezer, so you need to plan cleverly.
Great Ideas
Make and freeze a big batch of tomato sauce – and, if you like, bags of roasted vegetables – ready to spread over a cupboard pizza base (or a bag of fresh pasta) and top with grated cheese.
Cook some chicken, shred it, and mix with mushrooms and white sauce to make an instant jacket-potato filling. Freeze in one-portion bags.
Sweat down a 'soffrito' of diced leek, onion, and carrot, and freeze in small portions – this is a good starter for almost any soup (just add red lentils and ham or chicken stock).
Buy some foil oven trays from your local hardware or cookery shop. 2-person portion sizes are best. These are great because you can put them directly into the oven from frozen and you won't have any extra washing up.
The best 'Ready Meals' are those that are all-in-one, like Cottage Pie or Macaroni Cheese, both of which freeze very well. You could also make stews or chillies that can be eaten with bread or tortilla wraps. Avoid making 12 portions of one meal, as you will soon become tired of eating the same meal over and over again! Instead, start making extra when you cook your regular supper, if it's suitable for freezing.
If you will be feeding guests after the baby is born, consider preparing some side dishes to freeze: some that work well are oven chips, ratatouille, and roast potatoes. Any of these will dress up a plain meat cut (like lamb chops or beef pot roast) that will not be too taxing to prepare.
Fresh pasta from the supermarket freezes well, and cooks quickly. Fresh gnocchi or penne can be put directly into an oven dish with a pasta sauce (such as Carbonara) and some vegetables (like frozen spinach) and baked (30-40 minutes) to provide a quick, all-in-one supper.
There is a great range of frozen vegetables available in supermarkets now, and these will give you more meal options. For example, frozen, chopped peppers can be sautéed and used to top a pizza base. Frozen spinach can be thawed in a colander and cooked with double cream and white wine to make an instant sauce for chicken breast.
Keep some jars of good casserole sauce in your cupboard: Indian sauces and oven-bake sauces are particularly useful. You just take out chicken breast or diced lamb from the freezer, defrost, and cook in the sauce.
Also set up an online grocery order with your supermarket: make things easier for yourself by using the 'regulars' feature to quickly re-order things you've used up.
To Do List
To organise the meals suggested above, print off this TO DO list.
To Make
Jacket potato fillings (bean and chilli or chicken and mushroom)
Pizza sauce
Soup base – onion, leek and carrot
Ready meals: Macaroni Cheese, Beef Chilli, and Lamb Cottage Pie.
For guests: Ratatouille, Roast Potatoes, and Oven Chips
To Store In Cupboard
Pizza bases
Cook-in sauces
Red lentils
Part-baked baguettes.
Tortilla wraps
Tinned stews
For Frezzer
Frozen vegetables: chopped peppers, chopped spinach, sweetcorn and peas are usually fine from the freezer.
Individually wrapped portions of chicken, fish, and lamb chops – all of which can simply be grilled and eaten with sauce and salad.