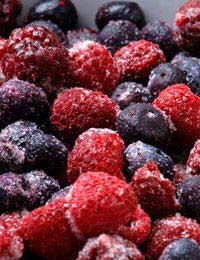 Make the most of the summer season by hoarding away some perfectly ripe fruit in the freezer. Here are our favourite ideas for freezing the very best of summer's produce.
What's in Season?
The British summer yields plenty of fresh fruit. The season starts with rhubarb, early gooseberries and blackcurrants, moving through early, maincrop and late strawberries, cherries, peaches, plums, redcurrants and whitecurrants, and finally the season ends with blackberries, apples and pears.
Some of these fruits won't freeze very well. Peaches and plums are likely to turn to mush in the freezer – so the best way to freeze these is by pureeing them (peach puree is the basis for a lovely summer bellini), or turning them into sorbet or granita.
Freezing Rhubarb and Gooseberries
Rhubarb and gooseberries are the earliest summer fruits and they're in a class of their own when it comes to freezing. Unlike late summer's soft, ripe fruits, gooseberries and rhubarb are firm and sharp – perfect for cooking. This also makes them perfect for freezing.
Neither fruit needs to be cooked beforehand. Prepare the rhubarb by washing it, chopping into 2-3″ lengths, then putting into bags. Gooseberries can be washed and put straight into bags too. Freeze them in serving-sized portions (depending on what you think you'll use them for). Both fruits are delicious simply cooked with sugar and served with plain yoghurt or ice-cream. You can also fold the cooked fruit through cream and meringue to make a 'Mess' or incorporate into a summer syllabub.
Rhubarb Crumble
Rhubarb loves flavours like vanilla, orange, cinnamon, and elderflower – vary your crumble by introducing something special.
800g rhubarb, chopped into 2″ lengths
Zest of an orange
2tbsp soft brown sugar
For the crumble:
100g plain flour
50g salted butter
3tbsp Demerara sugar
3tbsp pecans, chopped (optional)
Put the rhubarb (fresh or frozen) into an ovenproof dish and sprinkle over the orange zest and sugar. Stir together.
To make the crumble, cut the butter into small cubes and add to the flour. Use your fingers to rub lightly until the mixture looks crumbly (and don't rub the butter too much – you want bigger and smaller crumbs in there). Stir in the sugar and optional nuts, and sprinkle the crumble lightly over the rhubarb. Don't worry about bits of fruit poking through. Resist the urge to press the crumble down.
Preheat the oven to 220 degrees C. Bake the crumble for 30-40 minutes or until the top is golden brown. Cool for at least 10 minutes before serving.
Freezing Summer Berries
Summer berries are perfect for freezing – with the exception of strawberries. If you have a glut of strawberries, it would be better to turn them into ice-cream, jam, or sorbet. Because of their high water content, they don't taste or look as good when thawed. Most of the other summer berries can be frozen successfully.
The best way to freeze berries – including raspberries, blackcurrants, redcurrants, and blackberries – is using the 'open freeze' method. This means spreading them out on a non-stick tray (or a tray lined with parchment) and putting directly into the freezer for a couple of hours. Once the berries have hardened, remove the tray from the freezer and shake the berries into plastic bags. Label, seal tightly, and freeze. This allows the berries to keep their shape and thaw out much better.