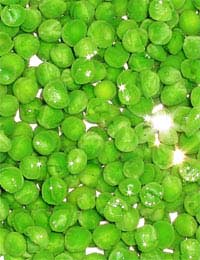 Do you have lots of freshly-grown veg and a roomy freezer? Here is our guide to freezing vegetables for a year-round supply of your favourite crops.
Freezing Peas and Beans
Peas and beans are perfect candidates for home freezing, especially as you can freeze them almost immediately after picking. Blanch them first to seal in the nutrients: bring a large pan of salted water to a rolling boil, and drop in the peas or beans. Don't cover the pan (this ensures that the fresh green colour is preserved). Set the timer for one minute, then remove the beans and drain them, running the cold tap over them to cool them quickly. Pack into freezer bags – with a sprig of mint, if you like – label, and freeze.
Freezing Potatoes
Freezing raw potatoes is a bad idea – even in stews or casseroles, frozen potatoes tend to thaw out soft and sludgy. Put your potatoes into storage sacks, and they should keep in a cool place for a few months. However, there are a couple of ways to prepare potatoes so that they can be successfully frozen.
1. Mashed Potatoes. Peel, boil and mash your potatoes as usual, then use to top single portions of shepherd's pie (or spread them in individual foil dishes). Cover, chill, and freeze. Defrost in the fridge before putting into the oven for at least 30 minutes (uncovered) until piping hot and golden on top.
2. Roasties or Wedges. This is a great shortcut for special occasions, especially Christmas. Peel, chop and parboil your potatoes (for about 5-6 minutes) in salted water (use 1tsp salt per 600ml). If you're making wedges, dust the boiled potatoes with a little polenta mixed with cayenne or other spice. Spread them on a baking tray to cool, then put them into the freezer. When they've frozen solid, pack them into freezer bags, and label. Cook from frozen, on a preheated tray of hot fat, until golden and crispy – for at least 1 hour.
Freezing Onions and Herbs
Vital to your recipes, but difficult to get all year, onions and herbs can be successfully stored in a number of ways. Our article about drying onions and garlic explains how to store them in a shed or similar cool storage place. If your onions are showing signs of rot or damage, then chop them finely and put them into freezer bags (well-sealed), then into the freezer. These can be used straight from the freezer in soups and stews. Herbs are best frozen in water, and making herb cubes is a good idea: finely-chop summer herbs like mint, dill, and coriander, and push them into ice-cube trays (keeping the different herbs separate). Cover with water and freeze, then put into bags and label them. Add the herb cubes to soups and other dishes in the last minute of cooking so you don't overcook them.
Freezing Spinach and Greens
Unsuitable for storage at room-temperature, spinach and greens make great freezer standbys. In the summer, spinach grows like mad, so make the most of it and freeze some to brighten up winter dishes. Wash your spinach, beet greens or chard, and remove the biggest stems, which can be tough. Put them into a large pan with the water clinging to the leaves and put over a low heat. Clamp on the lid and let the leaves wilt gently in the heat. Check after 5-10 minutes; when the leaves have collapsed, tip them into a colander and press with a wooden spoon to extract excess water. Now put them onto a board and chop roughly before bagging, labelling and freezing. Use them in any recipe that calls for frozen spinach (these greens are interchangeable).
Unsuitable for Freezing
Raw potatoes, aubergines and courgettes, squashes and pumpkins, shallots, artichokes, and raw tomatoes are not very good when cooked from frozen. You can blanch and freeze many of these, but they are usually best stored in a different way: courgettes, aubergines, squash and shallots make good pickles and chutneys, and tomatoes and onions are best cooked down to make a sauce which can be frozen. Take a look at the other articles in our preserving section for more information.