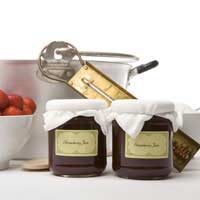 How much is a pot of jam? Too much – so save money and make your own, using home-grown fruit! The savings you'll get can be quite substantial –so read on and start jamming today.
How Much Can You Save?
If you source the right fruit and make your jam at the right time of year, you can save a lot of money. In August it's possible to make ten jars of your own plum jam for the price of two shop-bought jars. Homemade jam is a great way of preserving seasonal fruit, and the jars will keep for a year if properly stored. It also makes a good gift (saving you money at Christmas as well!)
It's important to buy fruit in season to get the best savings – buy an expensive punnet of imported strawberries in December, and you'll make no savings at all. So try to think ahead. If you like croissants on Christmas morning, you could make a batch of special strawberry and champagne jam, but it has to be done in midsummer. Look for offers and cheap prices at the supermarket and, even better, your local greengrocers. Loose fruit is almost always cheaper than pre-packaged fruit, so always opt for that.
Most fruit is ripe in the summer, with apples, pears and plums ripening in time for autumn. Gooseberries and strawberries are early-summer fruits, and rhubarb is ready in early spring (or, if forced in terracotta pots, from January onwards). Cranberries are ripe for Christmas. The best way to get to know our seasonal fruit is by shopping locally, and watching out for good prices – or make friends with someone who has a fruit tree in their garden!
Foraging for Free
There's one more way to increase the savings on your fruit preserves – by foraging for the ingredients! Blackberries and elderberries, ready from late August onwards, can be found free in parks and along public footpaths. Both grow in hedgerows, but look for hedges that are away from high-traffic roads. You can preserve both types in all kinds of recipes. Try Blackberry and Bramley Jelly (especially if you have access to an apple tree) or Elderberry Cordial, which is rich in Vitamin C.
Pick (or grow) your Own
In season, fruit is available competitively from Pick You Own (PYO) farms all over Britain. It's often cheaper than the supermarket, and it's a lot more fun than cruising the aisles too. You'll know that you're getting fruit at the height of its season, and you get to choose the best-quality berries. When you get the fruit home, wash, prepare and eat or cook it as soon as you can.
Growing your own is another great way to save money on fruit. Strawberries and blueberries can be grown in small gardens or patios in tubs. If you have a bit more space or a free wall, consider a row of raspberries (staked firmly) or an espaliered pear tree. And if your garden is big enough for a tree or two, add a plum or cooking apple tree to your collection. You'll soon have an abundance of fresh fruit preserves to last all year round!