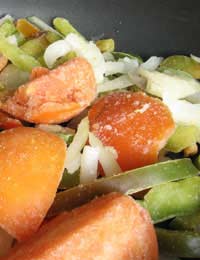 It's Sunday night, and there's a big pile of leftover vegetables in the steamer. Don't let them go to waste – those leftovers will give you another delicious meal! Here's our guide to help you store leftover vegetables and use them in your cooking.
Storing Cooked Vegetables
To store cooked vegetables, they should be put into an airtight container – without the lid – and cooled to room temperature, then covered and cooled a bit more in the fridge, and eaten within a couple of days at most.
What about freezing? Many vegetables just do not take to being frozen after cooking. Potatoes, peppers, courgettes and squash come into this unhappy category. Fortunately, you can freeze some types of vegetable: just give some thought to the way you do it.
Home-baked beans and home-roasted chestnuts – as well as soaked, boiled pulses – will usually freeze well, as will casseroles and stews with vegetables in them (preferably not peppers or potatoes though). If you have cooked vegetables that you can't use, you could make them into soup (perfect for freezing, provided it contains no dairy) or instead use them to make a flavoured stock, which will freeze well and be a good basis for future cooking.
Any Veg, Anytime Recipes
Some recipes are designed to be tinkered with – a little extra carrot, a handful of cooked cauliflower, the last pine nuts from the packet. Here are some useful standbys that can be made with almost any leftover vegetables in your fridge…
Roasted veggies provide the basis for all kinds of gorgeous summer dishes. Finely chop cold roasted aubergine, tomato and courgettes, and use them in lieu of a pizza sauce – just cover with mozzarella and parmesan and bake as usual. If you've planned your week's cooking, use the roasted veggies as sandwich fillings: finely-chopped cooked courgettes work well with chopped mint and feta, and roast aubergine slices are wonderful with lemon hummus (make your own with tinned chickpeas, about 50p) and rocket.
Boiled veggies like carrots, broccoli and peas need quick-cook recipes, otherwise they'll overcook and lose their nutrients. Try a child-friendly cheesy pasta bake: cook some pasta shells or bows until they are 'al dente' (with a bite), and toss into an ovenproof dish with 2tsp red pesto and the veggies. Whisk 250g ricotta with an egg and a handful parmesan cheese, and spread over the top of the pasta; then put into the oven for 15-20 mins or until golden and hot.
Raw vegetables – that cauliflower half that wasn't needed in the recipe, and leftover beansprouts from your chow mein – are easy to incorporate into your cooking, and perfect for soup or stir-fry. You'd be surprised at the combinations that make good soup: cauliflower works well with spices and leftover coconut cream, carrot goes with orange and nutmeg, and broccoli soup is delicious with leftover blue cheese stirred in at the end.
If you're really at a loss for using up the last bits of cauli and broccoli, and if they're in good condition, break them into florets and freeze in bags for a future dinner.
Salad Vegetable Leftovers
Salad leaves leftovers are difficult, because they must be eaten quickly to be enjoyed at their finest. But did you know that some salad leaves can be used for cooking? Watercress Soup is a great source of vitamins, and little gems can be gently softened in butter and then braised with a splash of white wine to make an elegant accompaniment to a roast chicken. Toss some rocket into a tomato-pasta dish at the last minute so it wilts like spinach.
Or try making rocket pesto: fill a food processor with rocket, a clove of garlic and a handful of pine nuts, then pulse to finely chop. Add olive oil until it comes together in an emulsion, and add lemon juice, parmesan or feta to taste. Process until smooth, then store in a jar in the fridge.