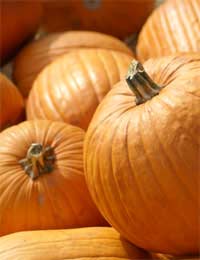 Whether you have a glut of winter squash, or you want to give away homemade hampers at Christmas, pumpkin chutney is a great choice. You can use proper pumpkin, or any kind of winter squash, to make this delicious chutney. The timely autumn harvest gives you the perfect excuse to spend an hour or two in the kitchen, preparing a spicy chutney to give away at Christmas. The resulting chutney will keep well into the following summer – unless it's been gobbled up by then!
Pumpkin chutney is less unusual than you'd think! There are versions made in the Caribbean and India, and even Elizabeth David had her own recipe for this useful condiment. Pumpkin chutney is a good addition to a chutney tray served with poppadoms (alongside a fresh onion salad and some minted yoghurt). It's also delicious on top of grilled burgers, especially vegetarian burgers, bringing an extra flavour boost to your barbecue favourites. Of course, its sweet and spicy taste also makes pumpkin chutney just perfect for serving with cheese, bread, and Christmas leftovers!
Basic Pumpkin Chutney – and Variations
Pumpkin is great for pickling because of its natural sweetness and appealing amber colour. Here is a pumpkin chutney blueprint with some interesting variations to try.
You need:
1 medium pumpkin or winter squash – about 1kg
600ml malt vinegar
450g honey or soft brown sugar
200g chopped onion, shallot or celery
1 tbsp sea salt
Optional extras to flavour your chutney:
Cayenne, chipotle or plain chilli powder
100g raisins or diced cooking apple
1 tbsp coriander seeds, toasted and ground
Seeds from 6 cardamom pods, ground
2-3 sweet or hot red peppers, diced
1tbsp fresh ginger, grated
First peel the squash or pumpkin and remove the fibres and seeds. Cut the remaining flesh into bite-sized dice and put directly into the preserving pan (a nonreactive or stainless steel pan). Pour over the vinegar and add the remaining ingredients (including any of the optional extras that you wish to use), then gently heat until the sugar has dissolved. At this point, raise the heat and bring to a boil, then simmer.
While the chutney is simmering, prepare the jars. You can recycle used glass jars, provided they have airtight lids. Just wash them carefully in soapy water and rinse. Dry out in a low oven to sterilise. They should still be warm when the chutney is ready.
Cook for 20-40 minutes, or until the mixture is thickened and the pumpkin pieces are tender. Cool for a few minutes before ladling into sterilised jars, sealing, and leaving to cool.
Caribbean Chutney – make the chutney recipe as above, adding the raisins, red pepper and ginger.
Indian Chutney – make up the chutney as above, including the raisins, ground coriander seeds, cardamom, and ginger.
Elizabeth David's spicy chutney with tomato and ginger – Substitute half of the pumpkin with fresh, ripe tomatoes, diced. Reduce the sugar to 350g and the vinegar to 400ml, and add 50g raisins, 1tsp ginger and a generous grinding of black pepper. Simmer until the pumpkin pieces have disintegrated for a smoother chutney.