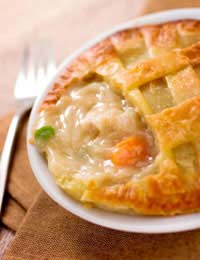 You've enjoyed a family roast and now you have a plateful of leftovers. With a little ingenuity they can be used to produce another two or even three dishes. Try some of our recipes for using up leftover roast chicken and ham.
Using up Chicken: How to make Chicken Stock
Once you've stripped your roast chicken down to the bones, don't throw them in the bin! The leftover carcass can form the basis of a rich chicken stock. Simply put it all in a large saucepan – adding an optional onion, a couple of carrots, chopped leek or celery, and one or two bay leaves – and cover with cold water, then simmer gently for 30 minutes. Remove the bones and reduce the stock to half its volume. You can now freeze the stock (use a sturdy freezer bag and leave it open slightly until the stock has frozen, then seal) or use it immediately. Use it as the basis for a heart-warming chicken soup, or try it in our recipe for chicken pie, below!
Using up Leftover Chicken: Chicken and Mushroom Pie
Cooked ham or bacon is great for sandwiches, but if you've been eating them for a couple of days then ring the changes with a supper-time pie. Because you are reheating meat that's been cooked, it's important to ensure that it is piping hot when it comes out of the oven.
200g Puff Pastry
600g leftover chicken, cut into bitesized pieces
2tbsp butter
1 onion, chopped
1 leek, washed and sliced
350g mushrooms, washed and thickly sliced
1tbsp plain flour
150ml chicken stock
Mustard, salt and pepper to taste
First make the sauce for the chicken. Melt the butter over a low heat and soften the onion and leek for 5-10 minutes, or until translucent. Add the mushrooms and stir for a minute. Stir in the flour and cook for 2 minutes before pouring in the hot stock, a little at a time. Simmer the sauce for 10 minutes until it's thickened. Taste and season with mustard, salt and pepper. Set aside to cool.
When the sauce is thoroughly cooled, stir in the chicken pieces. Spoon the filling into a 23cm pie dish and roll out the pastry to form a lid, using beaten egg to seal the edges of the pastry to the pie dish. Brush the top with more egg and cut a little cross in the top for steam to escape. Bake at 180 degrees C for 25-30 minutes, or until the pie is piping hot and golden.
Using up Leftover Ham or Bacon
Boiling or baking a joint of gammon or bacon makes sound economical sense. It is far better value than buying ham that's been pre-cooked and pre-sliced. Cooked ham or bacon is great for sandwiches, but if you've been eating them for a couple of days then try serving the leftover meat with homemade potato cakes and poached eggs.
OPTIONAL: handful of cooked bacon or ham, finely diced
500g cooked mashed potatoes
1 egg, beaten
6 spring onions, finely sliced
1-2tbsp plain flour
Salt and pepper
1tbsp butter
1tbsp olive oil
TO SERVE: Leftover ham or bacon, and poached eggs.
Mix together the potatoes, egg and spring onions and stir in enough flour to make it less sticky. OPTIONAL: Stir in cooked, chopped bacon or ham at this point. Season the mixture.
In a wide frying pan, melt the butter and olive oil. Form the potato mixture into small patties and put into the hot fat, then cook until golden on both sides (about 10 minutes). Serve topped with poached egg and sliced ham.