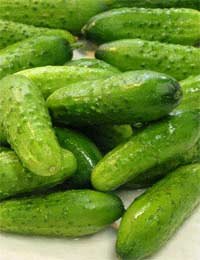 Sticky onions, chilli-spiked shallots, and pickled gherkins – these barbecue essentials are easily made at home. They're also a good way to preserve your harvest of onions, fruit and cucumbers. So stock up for your next barbecue by making your own spicy pickles.
Making Pickled Gherkins
Gherkins are actually small cucumbers, and if you grow your own, it's easy to pluck off a few baby fruits and make your own 'Big Mac'-style pickles!
First you'll need to salt the cucumbers to draw out excess water. Prick them gently with a fork and place in a wide bowl, then cover with salt and leave overnight. The next day, rinse them in lots of cold water (doing this several times) and pat dry on kitchen towels. Sterilise the jars and pack the dry cucumbers into them, whole or sliced. Now prepare the vinegar by pouring it into a stainless steel saucepan. Flavour the vinegar at this point using dried dill, peppercorns and bay leaves. Bring the lot just up to boiling point and then promptly switch off the heat. Let it cool slightly before pouring it over the cucumbers, making sure it covers them completely. Seal and cool before labelling.
Hot'n'Spicy Pickled Shallots
If you have grown your own shallots, you'll probably wonder if you can eat them all in time. Pickling is a great way to preserve them, and you can experiment with different chillies to create your own "If You Dare" cocktail onions.
We have covered pickling separately, but here's how to make spicy pickled shallots. First, peel and soak the onions in brine overnight. Prepare the vinegar by putting it into a stainless steel saucepan with your spices (allspice, cloves, bay leaves, peppercorns, and dried chillies – 3 or 4 for every jar you're making) and bringing it just to boiling point. Set the vinegar aside to cool a little. Drain the shallots and pat dry, and then pack them into sterilised jars. You can layer them with any spices that you want to leave in the jar – like dried chillies – but be aware that this allows the flavour from the spices to permeate more strongly. Finally, strain and pour the warm vinegar over the onions, seal each jar, and cool before labelling.
Recipe: Smoky Chipotle Onion Jam
Sticky, brown onions are a barbeque prerequisite – perfect for spreading on bangers or burgers. This 'jam' features cooked-down onions with a sticky texture and a hint of smoky chilli, which comes from the inimitable chipotle. If you haven't tried this chilli before, you'll be surprised by its flavour; as well as that famous heat it imparts a magically smoky depth. Chipotle is a jalapeno pepper that has been dried using smoke, and is available whole or diced – online, try The Spice Shop for supplies. This recipe makes enough for one 0.5L Kilner jar.
You need:
400g finely-sliced onion
2tbsp olive oil
1tsp dried chipotle chilli, crushed
50ml red wine vinegar
75g dark brown sugar
In a wide, shallow pan, warm the oil and add the onion, then leave to soften over a low heat for at least 25 minutes and up to an hour. The onion should become golden and meltingly soft. Next stir in the chipotle, vinegar and sugar, and cook for a further 10 minutes, or until the jam has become thick and sticky. Put into a sterilised jar and seal.