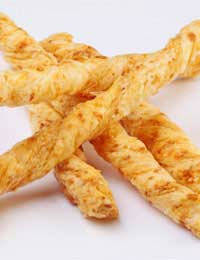 If you're on a tight budget, you'll appreciate the savings that you can make by taking your own packed lunch to work. But there are days when cheese sandwiches get a bit boring. Why not liven it up with some chunky soups, homecooked pasties, or spicy salads? Here are some quick ideas for packed lunches from the freezer:
Chicken and Mushroom Pasties
Easier to make than you might think! You can use the leftovers from a roast chicken to make your budget stretch further. Mix cold chicken with enough (tinned) mushroom soup to moisten (you don't want the filling to be too sloppy). Add chopped leeks and seasoning, and spoon the filling into circles cut from ready-made puff pastry. Freeze unbaked; when you want to pack them, cook the required number from frozen at 180 degrees C for 40 minutes, and pack into lunch boxes once cool.
Cous Cous Salad
Keep ready-to-eat falafel in the freezer. The night before, assemble your cous cous: measure 1 cup directly into your lunchbox and pour over enough boiling water to cover. Stir in chopped tomato and cucumber, fresh mint and coriander, and a good squeeze of lemon juice. Roughly chop the falafel and toss into the mix. Serve with a pot of plain yoghurt if liked.
Cheese Straws
A great accompaniment to homemade soup, if you fancy a change from bread rolls. Unroll a packet of chilled puff pastry and roll as thinly as you can. Cut into strips and brush half with egg. Sprinkle them with grated cheddar, then lay another strip on top of each one and twist. Freeze and bake as required, from the freezer, at 180 degrees C for about 20 minutes. Marmite fans in the family? Try spreading the pastry with marmite before cutting into strips and proceeding as above!
Superhealthy Noodle Soup
This is a great standby. It's very nutritious, with vitamins from spinach and protein from the pulses. Because it's so chunky and slurpy, it feels more filling than ordinary soup. Once you've tried this, try experimenting with variations. You could make a light, laksa-style broth with lemongrass, coriander and coconut milk; or a New Orleans chowder with cream and seafood (chilled, not pre-frozen).
You need:
1tsp each cumin and coriander seeds
1 red onion, diced
2 tbsp olive oil
2 cloves garlic, crushed
1 large leek, sliced
2 medium carrots, finely diced
2 tbsp tomato puree
1tbsp harissa (we like Belazu)
1 litre vegetable stock
1 tin / 400g chickpeas, cooked
100g medium egg noodles
400g spinach, washed and shredded
Fresh lemon juice, salt and pepper to taste
Toast the spices in a heavy casserole, remove them, and grind to a powder using a pestle and mortar or processor. Put the oil and onion into the casserole and cook gently until the onion is soft and sticky. Add the garlic, leek and carrots and cook for another minute, then stir in the tomato puree and cook for a minute more. Stir in the harissa, chickpeas and stock, and simmer for 20 minutes, or until the carrots are tender. Taste and season with lemon juice, salt and pepper.
Add the noodles and spinach, cover the casserole, and switch off the heat. The noodles and spinach will cook in the residual heat. Leave to cool completely in the pan before pouring carefully into airtight containers or freezer bags. Label and chill for an hour before freezing.