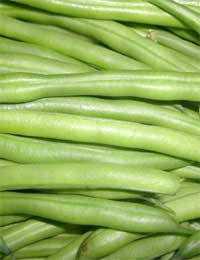 Runner beans are astoundingly prolific. A double 6' row will easily produce enough for a family of four (and friends). And, while the first beans are sweet and tender, later in the season it's common to grow tired of them. So what's the best way to dispose of this glut of runner beans? Pickling. This ancient culinary tradition yields a surprisingly tasty runner bean chutney. Give it a try!
Runner Bean Chutney
Last year, looking for a use for our glut of runner beans, we found a recipe in an old Devon W.I. cookery book. It was accredited to Mrs Chapple of Huntsham, but was suspiciously similar to Delia's 1989 recipe for spiced runner beans. (With its references to halfpenny weights, we assume that the book pre-dates 1969). Whatever the recipe's origins, it is clearly an historic tradition. Runner beans are among our oldest crops, having been grown in Britain for years and years – ornamentally and otherwise!
We tentatively tried the recipe for runner bean chutney, and waited the necessary three months for the chutney to mature. The result was very surprising: the runner beans maintain a bit of crunch in a spicy, rich chutney that is perfect for cold cuts, cheese and sausages. Utilise your glut of runner beans to make up a big batch of this in August and give it away at Christmas – despite the unappealing name, runner bean chutney has become a British classic for very good reason!
The Recipe
Before embarking on this recipe, prepare a number of jars. It's worth saving up used jars during the year to re-use for pickles and chutney. Modern jars with metal lids provide an airtight seal without the need for waxed circles or rubber seals. Just wash them well and rinse; put into a low oven for ten minutes to dry, sterilise, and warm them. Fill the jars while they (and the chutney) are still warm, then screw on the lids firmly, but don't label until they are completely cold.
You need:
2lb runner (kidney) beans, strings removed
4-5 onions
1 ½ lbs Demerara sugar
1 ½ tbsp turmeric
1 ½ tbsp mustard (the old-fashioned powdered type)
1 ½ tbsp cornflour
1 ½ pints malt vinegar (clear distilled is OK)
First prepare the beans – the hardest stage of this recipe! If necessary, string the beans. (This may not be necessary, particularly if the beans are still young, or if you have grown a variety that is stringless.) Then top and tail them, and slice quite finely on the diagonal. Dice the onions finely (or pulse briefly in a food processor). Put the beans and onions into a large pan of boiling, salted, water and cook until they are just tender (with a little crunch). Drain thoroughly in a colander.
Use a large stainless steel pan to cook the chutney (you might have to do two batches). Measure out the vinegar in a jug. Mix a couple of tablespoons of the vinegar with the spices and cornflour, and set aside. Put the remaining vinegar into the preserving pan and add the sugar. Very gently bring it to boiling point, swirling the pan occasionally to dissolve the sugar. Once it's dissolved tip in the beans and onions and boil for 15 minutes. Now stir in the spice mix and boil for another 15 minutes, until it is looking thick enough (bearing in mind that it will thicken more as it cools). Let the mixture cool slightly.
Use a funnel or spoon to fill the jars, seal them and leave to cool.