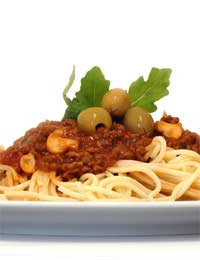 Cook once, and eat twice: it's a simple idea and, once you get the hang of it, could become a habit. Doubling a recipe is economical and freezing half of the dish prevents unnecessary waste (and gluttony!). Keep a freezer drawer for frozen dinners and you'll soon be able to halve your cooking time. Try our easy recipes…
What to Freeze
Some vegetables and other products have a short frozen life or don't thaw well – but the recipes below are suitable for freezing. In general, stews, sauces and soups will freeze well. Try:
Carrot and Coriander Soup: Soften one onion in 1tbsp butter, then add about 400g (4-5) medium carrots, ½ tsp cardamom seed, and 1 clove garlic. Cook gently for a minute. Tip in 300ml vegetable stock and 200ml coconut milk, bring to a simmer, and cook until the carrots are tender. Spoon into a blender with ½ bunch (35g) coriander, and whiz the soup until smooth. Cool before freezing
It's perfectly okay to freeze cooked meat, but be careful with it. Once you've cooked your meat or sauce, divide it into portions and cool thoroughly (and quickly) in the fridge before labelling and freezing. Try:
Beef Bolognese: Soften two onions, sliced, in 1tbsp olive oil. Stir in 200g chopped mushrooms and 100g diced bacon; cook until the bacon browns. Remove from the pan. In the same oil, brown 800g beef mince in batches, then put in all the browned beef with the mushrooms and bacon. Add 400ml (2 glasses) red wine with 1 tin chopped tomatoes and enough beef stock to cover. Add 2 bay leaves and 1tbsp fresh oregano. Simmer for 1 ½- 2 hours, topping up with stock as necessary. Cool and freeze.
Roasted Vegetable Tagine
This warmly-spiced stew is perfect for freezing. Once thawed, reheat the vegetable tagine for 10 minutes over a medium heat, then sprinkle with toasted almonds and serve with cous cous.
For 4:
1 aubergine, cut into 1cm-thick slices
1 medium butternut squash, peeled, seeded and cubed
1 large parsnip, peeled, with the woody middle removed, and cubed
2 sweet potatoes, peeled and cubed
2 medium carrots, peeled and sliced thickly
1tbsp olive oil
1tbsp Harissa (Moroccan spice paste – available in the supermarket)
400g (1 tin) cooked chick peas
1tbsp olive oil
2 red onions, finely sliced
1/2 tsp cinnamon and ½ tsp turmeric
400g (1 tin) chopped tomatoes
200ml vegetable stock
1tbsp lemon juice
1/2 bunch coriander of parsley, to garnish
Preheat the oven to 180 degrees C. Toss the aubergine, squash, parsnip, sweet potato and carrot pieces in the 1tbsp olive oil, using your hands to make sure the pieces are well coated, and spread evenly on two baking sheets. Put into the hot oven and roast for 25 minutes, or until the edges are starting to turn gold.
In a large casserole pan, warm the remaining 1tbsp olive oil with the sliced red onion. Cook over a low heat until the onion is soft and then stir in the Harissa. (If your Harissa is mild, you might want to add an extra spoonful – we used Belazu.) Sprinkle in the cinnamon and turmeric and stir over a low heat for a couple of minutes. Tip in the tomatoes and stock, and bring to a simmer. Let the mixture cook until it has reduced to a thick sauce. Now stir in the chickpeas and roasted vegetables and simmer for another 5 minutes to combine the flavours. Finally add the lemon juice and season before cooling and freezing the vegetable tagine (or serving on cous cous with coriander).