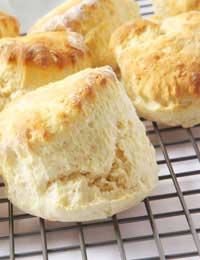 Many of your favourite cake recipes are suitable for freezing, enabling you to store them for longer. Here's our guide to safe freezing of cakes, biscuits and scones, plus a recipe for a banana loaf to keep in your freezer for emergencies!
Cake Freezing Tips
Make sure that the cake has cooled thoroughly (using a wire rack will speed the process).
Wrap the cake twice in clingfilm and foil, and put cardboard between cakes if you are freezing several layers.
Don't ice or fill the cakes before freezing – this is best done when they have thawed.
Freezing Scones, Pancakes and Biscuits
Scones and pancakes can be frozen after baking. Use your usual recipes, then cool thoroughly and open-freeze. To do this, line a baking tray with paper and arrange your scones on it. Put into the top of the freezer for a few hours, until they are hard. Then put the scones into a freezer bag and seal securely. Make sure you label them – scones are best eaten within 3 months. To eat the scones, remove them from the freezer and allow to thaw, before popping into a preheated oven for just a few minutes. Pancakes should be frozen with baking paper between each one, to keep them from sticking together. Reheat in the microwave or a foil-covered plate in the oven.
What about freezing cookies? As long as you choose recipes which contain fat and not too much liquid (no more than a few tbsp to bring the dough together), you can freeze cookies for up to 3 months. But it's better to freeze cookie dough (one month) rather than cookies. There are two approaches to this: roll the dough into a sausage shape and double-wrap in clingfilm, or shape the cookies and open-freeze (as above). To bake, thaw the dough overnight before slicing (the rolled dough) and putting into a preheated oven.
Freezing Cakes
It may come as a surprise that you can freeze most cake recipes. Victoria sponge (not the fat-free version) freezes very well, which is handy if you're making a special-occasion or wedding cake. Fruit cakes freeze particularly well – use your favourite recipes and try it out! If you choose a softer-textured cake, such as sponge, then it's a good idea to slice it before freezing. Make sure you wrap the cake very tightly to prevent it from drying out in the cold.
Banana Loaf With Chocolate Chips
This banana loaf can be frozen for up to 3 months, if you can keep it for that long.
You need:
200g plain flour
1tsp baking powder
200g caster sugar
100g chocolate, at least 60% cocoa, roughly chopped
75g pecan nuts, chopped (optional)
2 large eggs
3 bananas (large and ripe), mashed well
1tsp pure vanilla extract
To make:
Preheat the oven to 190 degrees C (180 fan) and butter and line a loaf pan.
Sift the flour and baking powder into a large mixing bowl.
In another bowl, mash the bananas well with a fork, then whisk in the eggs, vanilla and sugar.
Stir the wet ingredients into the flour, then add the chopped chocolate and nuts.
Pour the batter into the loaf tin and bake for 30-40 minutes, until a skewer comes out clean.