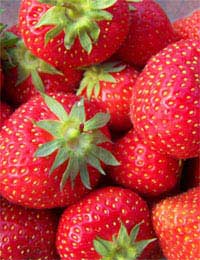 Strawberries, raspberries, blackberries and blueberries are all suitable for freezing. If you grow your own, these make a real treat in the depths of winter – when you can use them in recipes for cookies and desserts.
Selecting & Preparing Berries
Pick berries or soft fruits on the day you intend to freeze them. Go through your crop and choose the firmest berries, ensuring they are blemish-free. If you find any that are overripe, soft or have bruises, put those aside and eat them straight away (not really a hardship, is it?). Run the tap so it's nice and cold, and wash the fruit carefully under it. Remove stems from strawberries and raspberries. Spread the berries on kitchen towels and let them dry out.
Freezing Berries
The best way to freeze berries is on a tray – this way they stick together less when you take them out to use them. Spread the berries on a large tray (that will fit in your freezer) and put into the freezer for a few hours, until the berries are hard. Whisk the tray out of the freezer and put the berries into freezer bags, label, and put the bags straight back into the freezer again.
Using Berries
Blackberries, strawberries and raspberries can come out a bit soft when you've thawed them, so they are good for cooked desserts and smoothies. Sprinkle frozen blackberries directly over chopped apples for a delicious crumble filling; or simmer frozen raspberries with a squirt of honey to make a wonderful coulis for pouring over cheesecake.
Making a smoothie using your frozen berries couldn't be easier: tip them into a blender (no need to thaw) with a glass of apple juice and you've got an instant smoothie – what a route to healthy eating!
Berries with a skin – such as redcurrants, blueberries and blackcurrants – can be defrosted before use. Just put them into a bowl of cold water and let them thaw, before lifting them out and draining on kitchen towels. They are ready to sprinkle over cereal or bake into muffins – try the recipe below.
Frozen Raspberry Melba Smoothie
1 cup frozen raspberries, straight from the freezer.
1 tin peach halves, drained.
1 cup vanilla yoghurt.
Splash of milk, to thin
This healthy-eating recipe is spectacularly easy to make. Just pour all the ingredients into a blender, and whiz until smooth and drinkable – adding milk to achieve the right consistency. Choose a natural yoghurt (or use plain with a splash of vanilla extract) and this smoothie contains a good blend of antioxidants, vitamin C and protein.
Blackberry Muffins
9oz self-raising flour
1.5tsp baking powder
2oz margarine
3oz caster sugar
1 packed cup blackberries, defrosted and drained on kitchen paper
2 large eggs
260ml milk
To make: Measure out the flour and baking powder, and sift into a large bowl. Add the margarine and rub into the flour until it looks like coarse sand. Stir in the sugar and berries. In a jug, whisk together the remaining ingredients and then pour over the dry ones. Stir gently, not until smoothly combined – lumps are good. Spoon the mixture into 12 muffin cases. Bake at 180 degrees for about 20 minutes, and enjoy warm…