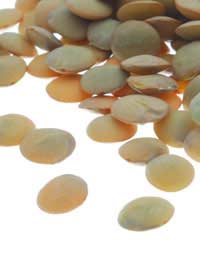 Save money by drying your own beans and pulses – they're a valuable source of protein, and perfect for filling the 'hunger gap'. Here's our guide to drying beans and pulses – hopefully, you'll save money along the way!
Why Dry Beans and Pulses?
This very old-fashioned technique has lost favour in contemporary British cooking, although some 'trendy' pulses like Puy Lentils do appear on restaurant menus, but we think they've only fallen from favour because fashion is fickle! There is an enormous variety of drying beans to choose from: from Borlotti (very popular in Italian cookery) to Black Beans (used in Brazilian and Caribbean cuisine), Dried Fava Beans – known in the UK as Fava Beans (widely used in Middle Eastern cookery) – and more commonly-known Chick Peas (which are used to make hummous, but sadly won't grow in our climate). If the sheer variety hasn't got you interested, there's another important reason to add drying beans to your vegetable plot.
If you're aiming for a degree of self-sufficiency, you will find that legumes should be a very important part of your planning. You can store greens and peas by freezing; you can turn tomatoes and fruit into chutneys and jams; but you can dry beans on the plant, and store them in airtight jars for months at a time. This very valuable storage aspect should give you a good reason to experiment with beans. As you learn about drying beans, you may notice that many seeds come from old English monasteries – because monks, who usually grow their own food, need an extra source of protein. You can save money by cooking a few bean-based meals every week to supplement your pocket and protein stores. Ready to try some beans yet? Once you've tasted your first crop, their nutritional value and cooking potential will have you hooked.
Choosing Beans For Drying
The mainstream vegetable seed suppliers offer some types of bean suitable for drying. One of the most popular is Borlotti, which is usually imported from Italy. Broad Beans have always been grown in the UK, but they're not absolutely perfect for drying – because, as they dry, they develop a tough outer skin that is annoying to remove. Instead, look for specialist varieties marked as suitable for drying. You may find that your search leads you to heritage and rare seed merchants (look up The Real Seed Company, Chiltern Seeds, Tamar Organics, and The Organic Catalogue). You'll need a little patience and determination, but the selection you could end up with is incredible: sourced from English Monasteries, Italy and Madeira, drying beans come in all sizes and colours – look for black, maroon, and bird's egg patterned.
How to Dry Your Beans and Pulses
Drying beans is the easiest job you'll get all year! Just leave the pods on the plant – when they're brown, dry and rattling, the beans are ready. If you are expecting very wet or frosty weather, remove the pods and spread them out in a well-ventilated place (not necessarily a hot one), where air can move over and beneath them. They'll soon be dry enough to pack into airtight jars. To test, squeeze a bean between thumb and fingernail. If the bean is ready, your fingernail will leave no imprint.