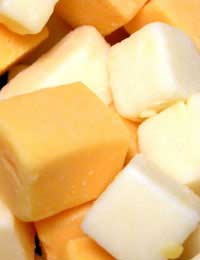 Odds and ends of cheese floating around in your cheese drawer? Here are our favourite ways to devour cheese leftovers!
Storing leftover cheese
There's one easy solution to leftover cheese, of the hard variety: grate it and freeze it. If you often have the end of a cheddar block in the fridge, grate it and put it into a designated bag in your freezer. Keep doing this, and you'll soon have enough to make your favourite lasagne or rarebit recipes. Cheese will keep in the freezer for two months or more.
Cheesy Garlic Bread
Make this delicious garlic bread with any leftover cheese that you can find in the fridge. It's great with soup or pasta dishes.
2 cloves garlic, crushed
4tbsp butter
200g leftover cheese, grated – you can use cheddar, parmesan, gruyere, red Leicester, pecorino, or smoked cheese
75g mayonnaise
1 medium French stick (or leftover ciabatta, focaccia, crusty rolls, or any other thick sliced bread!)
First, melt the butter in a frying pan and stir in the garlic. Let it melt and soften for about one minute, then switch off the heat and leave on one side.
Mix the grated cheeses with the mayonnaise and taste for seasoning.
Cut the French stick diagonally into thick slices and arrange on a baking sheet. Put under the grill to toast on one side. Now whip out the tray and spread the untoasted sides with first the garlic butter (using a brush if the butter is not set enough) and then the mayo/cheese mixture. Put the slices straight back under the grill and cook until golden and bubbly on top. Serve straight away with soup or pasta.
Cauliflower Cheese Soup
You can use leftover cheese to top all kinds of soups, from spring minestrone to creamed tomato. But cauliflower has a famous affinity with cheese, including cheddar, parmesan and Lancashire cheese. So you can adapt this recipe to use up any leftover cheese (but we wouldn't recommend feta or goat's cheese).
2 large leeks, whites only, sliced
1tbsp butter
1 medium cauliflower, broken into florets
1 litre vegetable stock (plus more to thin)
100ml single cream
1/2 cup grated cheese, any kind
Salt and pepper
Melt the butter and gently cook the leek in a large pan until it's soft. Stir in the cauliflower florets, then cover the pan and leave on a low heat for 10 minutes. Now remove the lid and pour in the stock; bring to the boil and simmer for another 20 minutes, or until the cauliflower is soft.
Stir in the cream and spoon the soup into a blender (or use a hand blender in the pan). To achieve a silky consistency, blend for a few minutes – the cauliflower has a tendency to be grainy, so let it whiz for longer than usual. Now stir in the cheese and blend briefly to combine.
Taste the soup – it will need plenty of black pepper and maybe a little salt (although the cheese may be salty). If it is still grainy, press the soup through a fine sieve. Reheat gently in the pan and serve topped with croutons and extra grated cheese.