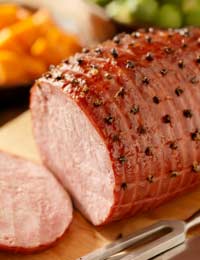 Cooking a joint of gammon is usually far cheaper than buying those packets of sliced ham. It gives you lots of extra leftovers for family suppers, plus a batch of stock that's delicious in soups. Why not buy a joint instead of sliced ham next time you shop? Here is our guide to making the most of it.
Storing Cooked Ham
Once you have cooked your ham, cool it on the kitchen counter. It's best to plan how you will use the leftovers. If you intend to use some for sandwiches, slice off the right amount, and wrap it well in clingfilm (a Tupperware box is even better). Keep it away from any raw meat in the fridge – raw meat should be on a lower shelf than cooked foods, to prevent it from contaminating anything. If you have a lot of ham that you don't expect to use within 3 days, dice it and freeze it in bags. This will keep it more safely until you are ready to use it.
Quick Carbonara
Diced ham leftovers will defrost in a few hours, so you can whip up a quick pasta dish at quite short notice. Carbonara is a classic and great with garlic bread.
Serves four
200g linguine or tagliatelle
1tbsp olive oil
200ml double cream
Salt and pepper
Handful diced cooked ham, defrosted
Handful peas, cooked (or cook with pasta for last 5 minutes)
2 egg yolks
100g Pecorino, finely grated
First cook the pasta according to the packet instructions. Drain it in a colander over the sink. Warm four pasta plates in the oven (plus some garlic bread if wanted). In the same large saucepan you used for the pasta, warm the oil and toss in the ham and peas. Stir over a medium heat until they are well heated. Now add the pasta to the pan. In a jug, whisk the cream with the egg yolks and cheese. Pour this mixture into the saucepan and cook everything over a low heat, stirring gently, for 2 minutes – the heat from the pasta and pan will set the egg yolks to thicken the sauce. Serve quickly with garlic bread
AnyTime Ham & Eggs
Ham 'hash' is a super easy and delicious family meal. You can serve it for breakfast or supper, adding grilled tomatoes or toast if you want it to be more like a Full English! It's not quite smart enough for guests, but it tastes great!
Serves four
2 handfuls diced cooked ham, defrosted
2tbsp olive oil
4 large potatoes, diced into 1cm cubes
1 onion, diced
2tsp wholegrain mustard
4 eggs
In a large frying pan, warm the olive oil and put in the diced potatoes. Saute for 10-15 minutes or until the cubes are tender. Add the ham and onion and continue to cook for another 5 minutes, until the hash is browning underneath. Stir in salt, pepper, and mustard. Turn down the heat and make four dents in the hash; crack an egg into each one. Cook slowly until the eggs are done, then dish up some hash and an egg per person.