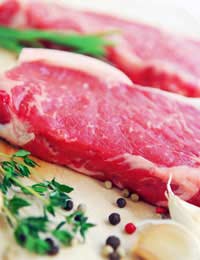 A shoulder of lamb or a beef roast inevitably gives you a plate of leftover meat. But don't waste it on the dog – this cooked meat can be recycled to make tomorrow night's dinner! Here's a guide to help you store, freeze and cook leftover meat.
Storing Leftover Meat
Store your leftover meat in the fridge, ensuring it's cooled and packaged within an hour of finishing your meal. It's also vital to follow the essential hygiene guidelines when preparing and reheating the meat: wash your hands thoroughly, use clean utensils throughout, and ensure the meat is piping hot before you serve it on day 2.
What about freezing? It's fine to freeze leftover meat: you'll find that meat in prepared dishes (like stews or curries) keeps a bit better than plain roast pieces, which tend to try out on defrosting. If you have lots of spare roast meat then we'd recommend cooking it up into a stew or chilli and freezing in portions.
Recipe Ideas For Leftover Meat
The family just will not go for cold cuts and jackets AGAIN, right? So try one of our favourite recipe ideas for leftover meat, and they'll never know they're eating leftovers!
Turkey Stroganoff: If you've never tried stroganoff, you're in for a treat – this simple recipe transforms leftover turkey (or even lamb). You can use up spare cream (often floating around at Christmas) too. You'll also need a box of chestnut mushrooms, lemon juice, an onion, some garlic, paprika, and rice or noodles to serve.
Soften the chopped onion and garlic with a good tbsp of paprika for a couple of minutes before adding the turkey and sliced mushrooms, stirring; after another minute or so, stir in some cream that has been soured with a splash of lemon juice, and let the stroganoff bubble until the meat is thoroughly heated through and the sauce is thick enough for you. (To thicken more, stir in a paste made from 1tsp cornflour and 1tsp cold water.) Serve.
Meatballs and Spaghetti: Leftover meat of any type makes great meatballs! Blitz it in a processor (or chop finely by hand) with an onion or two, an egg, and seasonings of your choice. Lamb, for instance, suits rosemary, garlic, oregano and lemon zest; beef deserves plenty of garlic and oregano; pork is great with dried apricots. When the mixture is mouldable, form it into meatballs and shallow-fry them until golden, then drop into tomato sauce to simmer until they're thoroughly reheated. Great served over spaghetti!
Cornish Pasties: This traditional snack is the perfect way to use up leftover beef or lamb. Soften some onion and add finely-diced potato and a pinch of chopped herbs (rosemary, thyme or oregano are all good), before adding the shredded meat to the mixture. Roll out a pack of defrosted shortcrust or puff pastry, and cut into large circles.
Fill half of each circle with the meaty mixture and brush the edges with egg, then seal tightly using a fork. Sit each pasty seam-upwards on a baking tray, brush with more egg, and slide into a hot oven to bake until golden. Eat hot, warm or cold!