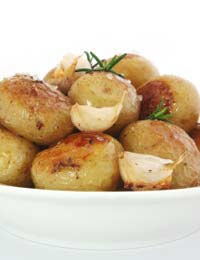 Crispy roast potatoes, creamy mash and firm steamed baby potatoes… there isn't a bad way to eat a potato. No wonder some of us get carried away and prepare too many at dinner time. If you're left with a mound of leftover potatoes the next day, here are some delicious ways to enjoy them.
How should you store potatoes?
Just like any food, cooked potatoes should be cooled and put into the fridge quickly (the Food Standards Agency says within 2 hours). Eat them within 2 days. By the way: yes, you can plant the potatoes that have sprouted in the vegetable rack (although these are perfectly safe to eat, providing you cut out any green bits). But they might not perform quite as well as proper seed potatoes (which have been acclimatised to make them more disease-resistant).
What can I do with leftover mash?
Leftover mash certainly doesn't need to languish in the fridge.
Shepherds Pie If you have a huge bowl of it, use it to top a shepherd's pie the following day. This is a great way to also use up any leftover roast meat – just shred and stir into oniony gravy to make an impromptu pie!
Fishcakes, Pies and Hash Browns If you have just a little leftover mash, mix it with some tinned salmon, mustard and parsley, to make fish cakes. Alternatively, use it to make cheese and potato pies: unroll some ready-rolled puff pastry and cut saucer-sized rounds. Mix the mash with plenty of grated cheese and spring onion, seasoning with a dab of mustard, salt and pepper. Put mounds of the mixture onto the puff pastry and pull up the edges to seal. Brush with egg and bake for 30 minutes in a hot oven.
And if it's a weekend, use your cold mash in the morning to make a version of "hash browns": beat in an egg, then form into patties and (optional) coat in breadcrumbs before frying until golden brown. Serve with bacon and fried tomatoes!
What can I do with leftover roasties?
Spanish Tortilla
Use leftover roasties to make a wonderful and authentic Spanish Tortilla. Soften an onion in plenty of olive oil, then stir in the roast potatoes, chopped. When everything is soft and golden, beat 4 eggs in a jug with salt and pepper. Pour over the vegetables and fry gently until the tortilla is browned on the bottom. Put under a hot grill to finish off. You can eat this warm (cut into squares, as a tapas, with olives and wine!) or cold (cut into wedges).
Roman Pizza Another great use for leftover roasties is a Roman Pizza. Traditionally served in Rome, this carb-fest is a delectable dinner dish. First make the pizza base. You will need:
175g (6oz flour)
3/4tsp dried instant yeast
3/4tsp sugar
1tbsp olive oil
1tsp salt
100ml of warm water
Put the flour and yeast in a bowl. In a small jug mix the water, sugar and salt until dissolved. Pour this and the oil into a well in the flour and mix it in using a wooden spoon (or your hands). Knead for 10 minutes then rest for half an hour. Roll out the dough to a circle roughly 30cm diameter, place on an oiled baking sheet, then cover with a tea towel and put in a warm place for another half an hour. Thinly slice the leftover potatoes and arrange over the pizza base. Sprinkle with chopped, fresh rosemary, sea salt, and finely-grated Pecorino. Drizzle with olive oil and bake at 200ºC for 15-20 minutes, or until golden. Serve with an Italian-style carafe of wine!
What can I do with leftover boiled potatoes?
Curry, Stew or Soup?
Boiled potatoes are probably the easiest leftover to use up. You can add them to any vegetable curry or stew, or use them to thicken up a leek soup. You can slice and sauté them to accompany a simple meal, or put them on top of a lamb hotpot (in an open casserole).
Potato Salad Try our favourite potato salad – it's perfect with leftover boiled potatoes. Dice the potatoes into 1-inch chunks and put into a wide bowl. Finely chop a handful of chives (and, optional, a small bunch of spring onions) and scatter over the potatoes, reserving some for garnish. In a jug blend 2tbsp good mayonnaise with 2tbsp plain yoghurt, and season. Use this mixture to dress the potatoes, tossing until they are well coated – you may need more or less of the mayo mix. Keep the potato salad in the fridge unless you are eating it straight away. For a twist of flavour add some wholegrain mustard or some chilli powder. It's great with a barbecue or buffet dinner.