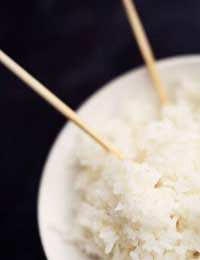 Instead of wasting the leftover rice you boiled for last night's curry, put it to good use in our recipes… Here's our guide to storing and using leftover rice.
Storing Leftover Rice
Storing leftover rice is a tricky business. Bacteria present in the rice multiplies astonishingly fast at room temperature, so cooked rice must be cooled and stored quickly.
1 Make sure it's in the fridge within one hour of coming off the stove – the refrigerator makes bacteria growth dormant, so the rice should be safe to subsequently reheat.
2 Cover the cool rice with an airtight plastic lid – don't use anything that may contribute bacteria, such as a tea-towel.
3 You can also freeze the rice at this point, as it will be fine in the freezer too.
Quick cooling and thorough reheating will mean that you avoid food poisoning.
When you reheat the rice, remove what you want from the fridge (using clean spoons, not your hands). Break up any lumps (again, using a spoon or fork). You can use the microwave or wok to reheat; just make sure that you heat it thoroughly, so it's piping hot right through.
Recipes For Leftover Rice
We've covered storing – but what can you do with the leftover rice? Here are three of our favourite suggestions.
Egg-fried Rice: This is lovely with a nutty brown rice variety. It's a meal in itself, especially if you add some prawns or tofu to the wok before adding the rice. Start with a hot wok and add a splash of groundnut oil, allowing it to get nice and hot. Throw in some sliced spring onions and crushed garlic or ginger, then pour in 2-4 beaten eggs (one per person) and stir rapidly until the eggs are set.
Add extras – pepper strips, frozen peas, grated carrot, prawns or tofu strips – at this point, and stir-fry over a high heat. Now add a big splash of soy sauce and the rice, and sizzle briskly until the rice is hot, hot, hot. Drizzle with sesame oil, and sprinkle with coriander or crushed peanuts to serve.
Refried Risotto Balls. Suitable for leftover risotto (made with a white rice variety such as Carnaroli or Arborio). This is such a delicious way to use risotto, we wouldn't blame you for making extra on purpose! Beat an egg and grate a pile of parmesan and put into shallow bowls.
Cube a ball of fresh Mozzarella and preheat a deep pan of sunflower oil for deep-frying. With wet hands, shape the cold risotto into balls, then press a Mozzarella cube into each one and make sure it's covered. Roll each ball in egg, then parmesan, and drop into the hot oil. Fry until golden and serve swiftly!
Stuffed Vegetables. You can make this with any rice variety, white or brown; leftover risotto can be stuffed straight into halved peppers and baked for a bit longer. Even if you start with plain white rice, this easy recipe makes a smart supper – keep a jar of marinated artichokes or roast peppers on hand and you're ready to make it at a moment's notice. Soften an onion and clove of chopped garlic in a pan, throw in capers/peppers/chopped artichokes, and some sundried tomatoes if you have any.
Season very generously and add the cooked rice and chopped vegetable insides, then continue frying until the mixture is fairly dry. Use this stuffing to fill halved peppers, courgettes or aubergines, and cover thoroughly with grated cheese. Bake in a medium-high oven for 20-30 minutes, until golden and bubbling and the vegetable shell is tender.