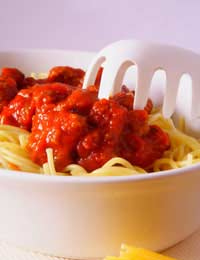 Whether you're a vegetarian or not, why not try making one of our recipes to keep in the freezer? You'll be ready for visiting vegetarians – and never without a supper dish. There are advantages to freezing meat-free dishes, too: they'll usually keep for longer than meat, especially pulses, and you can reheat from frozen.
What Freezes Well?
The best way to decide what works is to try things out. If you are freezing vegetable stews or curries, a good tip is to slightly undercook the veg. This way, they'll be perfectly tender once they've been reheated. Choose ingredients that won't get too mushy after being subjected to freezing and re-cooking: pulses, such as chickpeas, black beans and aduki beans, and harder vegetables like potatoes, carrots and peppers will fare better with thawing.
What Are the Freezing Rules?
Don't forget there are still some rules when it comes to freezing vegetables and dairy products. If your recipes contain milk or cheese, they are subject to a use-by date of 3 months from the day you made them. Some vegetables don't thaw as well as others: courgettes, tomatoes and others with a high water-content will not retain their fresh texture, so bear this in mind.
What Containers Should You Use for Your Recipes?
You can now buy a variety of bags, containers and tubs especially designed for the freezer. It's important to make sure your food is wrapped up so it's airtight, to avoid the deterioration of flavour and texture (and prevent strong foods from flavouring other things in your freezer). Choose strong bags with airtight locks, click-shut Tupperware, or foil trays with cardboard lids.
Vegetarian sauces, such as lentil Bolognese and bean chilli, and soups, such as carrot and coriander, will freeze well in bags. When you put the bags into the freezer, leave a little opening at the top until the contents are frozen, to allow for expansion and prevent the bags from splitting. You can seal them up the following day to keep the sauce or soup at its best. Casseroles and oven-bake recipes can be frozen in disposable foil trays – to reheat you can just put them directly in the oven, saving on washing-up.
Recipe: Lentil Bolognese
Made with plenty of red wine and cheap green lentils, this is a delicious (and low-fat) vegetarian pasta sauce that will go a long way. 6 servings (Serve with spaghetti and lots of parmesan).
1tbsp olive oil
1 large red onion, finely chopped
2 large carrots, finely diced
1tbsp sugar
300ml good red wine
250g green lentils
500g tomato passata
600ml vegetable stock
Warm the olive oil in a large saucepan and add the onion. Soften over a low heat for about 10 minutes, then add the carrot and continue to sweat the vegetables gently for another 10. Sprinkle in the sugar and stir it in. Now turn up the heat and pour in a third of the wine, letting it bubble and reduce slightly. Add the rest of the wine and bring to simmering point. Cook for another 10-15 minutes or until the wine has reduced by about 70%.
Rinse the lentils thoroughly in cold water, drain, and stir them into the pan. Pour over the passata and half of the stock, and return to a fierce boil. Cook for 10 minutes, then add the remaining stock and turn down the heat. Simmer gently for another 35-45 minutes, or until the sauce is thick and the lentils are tender. Taste for seasoning.
Serve on a bed of cooked spaghetti, or cool thoroughly in the pan before ladling into freezer bags (about 4tbsp per person per serving).